Walk 7 - Wheal Coates, Chapel Porth, Wheal Lawrence Valley and Goonvrea
The National Trust Car park at Wheal Coates is a good starting point for a walk that takes you from open heathland and cliffs at Wheal Coates, through the sheltered valley at Chapel Porth to Goonvrea, and so back to the car park along Beacon Drive.
The Car Park
Behind two of the banks which edge the car park are clay pits, evidence of the narrow band of granite which curls around the south-western side of the Beacon. Now the pits are overgrown by heather, gorse and willow but in the past clay was extracted for pottery making and for use in the mines. As you leave the car park past the donation box look to the right and you will see a single isolated stack; this is the earliest part of Wheal Coates mine, built around 1830. Near it is a sloping roofed cottage which was once the Count (Account) House for the mine.
The Car Park to Wheal Coates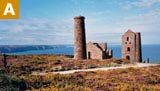 Follow the wide track from the car park to the main buildings at Wheal Coates A. (This small section of the walk is wheelchair friendly). In early summer the heathland is purple with bell heather and dotted with smaller patches of pink cross-leaved heath. These give way in late summer to the mauve of ling and the gold of dwarf gorse. On the right hand side of the track are many pits and bumps, some of which are thought to be relics of mediaeval surface mining.
The Mine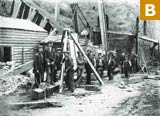 On the wall of the whim engine house at Wheal Coates, the National Trust have thoughtfully fixed an information board which describes the original function of the ruined mine buildings, built in the quest for tin and copper. Now the buildings, particularly the engine-house and calciner stack, are used instead by ravens and nesting jackdaws. Have a look at how expertly the huge blocks were laid one on top of another; the soft colours of the rocks reflect the minerals - particularly copper and iron - which they contain. St Agnes Museum has the bell from Wheal Coates which signalled the ends of the shifts, and also other information on the mine, including the amounts of tin and copper it produced, and the rates of pay for the men who worked there B.